CBD has taken the health and wellness community by storm. With its array of health benefits, it's no surprise that this natural chemical compound is being utilized for almost anything that can be used by a person, from pain relief to even more serious illnesses such as multiple sclerosis, arthritis, and even cancer. CBD has also been studied and proven to help with acne, depression, and the overall well-being of its users.
But what exactly is CBD? And what types of CBD are there?
Cannabidiol, also known as CBD, is one of the hundred compounds you can find in a cannabis plant. But unlike Tetrahydrocannabinol, or THC, CBD is not a psychoactive compound, thus, it doesn't get you "high" or give you that feeling of getting "high" after use. The World Health Organization has reported that even though CBD is one of the hundreds of components or compounds found in marijuana, it does not exhibit effects on humans that would suggest dependence potential or substance abuse and that there has been no public health record that reports pure CBD addiction.
The legality of CBD in the United States constantly changes. Despite that, CBD can be obtained readily in most parts of the country. Every state in the country has a law on CBD use limitations and restrictions. The federal government considers marijuana and CBD to be in the same class but does not enforce against their use, although there is always confusion about the government's position on whether CBD is derived from marijuana or from hemp. But a bipartisan consensus in Congress is aiming to legalize the hemp crop for all its purposes and intents, and that action would make it extremely difficult to prohibit CBD.
There are three types of CBD available. Those are full-spectrum, broad-spectrum, and isolate. Each type contains different concentrations of compounds. Based on these three types, a lot of companies have manufactured different variants of CBD-infused products such as CBD oils, topicals and ointments, gummies, and many others for users to take advantage of the health benefits it can provide, without having to take the pure form.
Now let's talk about each type in detail
The first one is full-spectrum CBD. This includes all parts of the cannabis plant. Full-spectrum CBD contains small amounts of cannabinoids, terpenes, and flavonoids. All these compounds are beneficial to the user's body, especially flavonoids, which have anti-cancer, anti-inflammatory, and neuroprotective properties. And all products derived from it contain <0.3 percent THC. And the inclusion of THC in full-spectrum CBD might enhance the anti-inflammatory and pain-relief properties of CBD. Despite having low levels of THC, full-spectrum CBD still should not give you the feeling of being "high" after use. But this will depend on the dosage that you take or the potency of the product. Taking a dose larger than recommended of a highly-potent product might introduce enough THC into your system to give you euphoria, or its effect.
Full-spectrum CBD products are widely available. From edibles like gummies, in forms of creams, oils, lotions. You can also find it in tinctures, capsules, or pills. If you want to take advantage of the health benefits you can get from CBD, then full-spectrum CBD might be your best choice. But if you worry about the amount of THC that gets introduced to your body by full-spectrum CBD, then you can check out broad-spectrum CBD.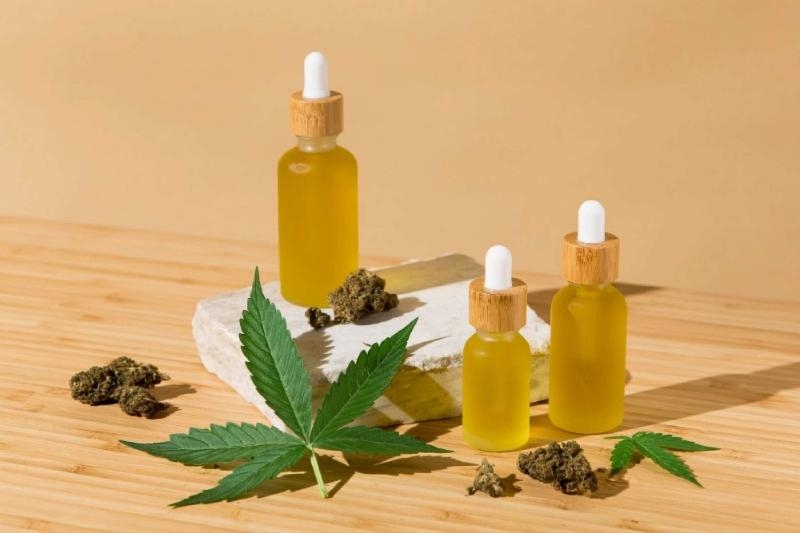 The second type of CBD is broad-spectrum CBD. Containing most compounds found in a cannabis plant, you would think it is just like full-spectrum CBD, but it is not due to the fact that it only contains a trace amount to almost nothing of THC. We already established the fact that CBD has an array of health benefits that include anti-inflammatory properties, can help reduce seizures in epileptic sufferers, excellent pain relief, and can help you sleep better. But due to the broad-spectrum type lacking THC to go with CBD, users of this type may be missing out on the "entourage effect" wherein the health benefits and therapeutic claims CBD has are amped up to give better results. And on the occasion of a drug test, you might still get positive results for some broad-spectrum products might still have a trace of THC even with claims of them being free of the said compound. Despite the lack of THC, broad-spectrum CBD still contains other compounds such as terpenes and cannabinoids. Terpenes, for one, contain excellent anti-inflammatory properties, relieve pain, anxiety, and arthritis, and are great in combating fungal infection. And for the reason that broad-spectrum CBD lacks THC, you will definitely be getting every health benefit CBD has to offer without having to go through the anxiety of also getting the psychoactive effect or the euphoria THC gets you. Broad-spectrum CBD products range from gummies to tinctures and lotions, and they even come in drop form. If you want to take advantage of all the health benefits that CBD has to offer, full-spectrum CBD or broad-spectrum CBD might be for you. But if you are only interested in CBD, then you might want to take a look at CBD isolate.
CBD isolate is the final type of CBD this article will discuss. It is a type of CBD that, unlike full-spectrum CBD has less than 0.3 percent of THC, and the broad-spectrum CBD that only has trace amounts of THC, it does not contain any amount of the psychoactive compound at all. It is the best type of CBD for those who want to try it but are careful about not having a trace of THC in their bodies. This type of CBD isolate is made from various processes used by manufacturers to extract all compounds, including THC, from a cannabis plant, leaving only CBD in pure crystal form, which is then crushed to a powder form for easy consumption, and this type of CBD does not have a smell or taste that would make it distinctive. Despite CBD isolate not containing THC to amplify its health benefits, it can still help boost the immune system, have anti-inflammatory properties, and prevent anxiety.
Now that we know the types of CBD there are, it is all up to you to identify what your needs are and choose the best type for you with help from your physician.
Sources:

https://www.healthline.com/health/full-spectrum-cbd#best-products
https://www.healthline.com/health/broad-spectrum-cbd
https://www.healthline.com/health/cbd-isolate-vs-full-spectrum
https://www.health.harvard.edu/blog/cannabidiol-cbd-what-we-know-and-what-we-dont-2018082414476
https://www.medicalnewstoday.com/articles/types-of-cbd#_noHeaderPrefixedContent
https://www.winsightgrocerybusiness.com/amp/wellness/breaking-down-3-major-types-cbd
https://kchempco.com/blogs/news/types-of-cbd
https://sflcn.com/the-different-types-of-cbd-products-available-in-the-market-right-now/amp/

© 2022 by Lazarat.com, a LIVenture LLC.
All rights reserved. No part of this document may be reproduced or transmitted in any form or by any means, electronic, mechanical, photocopying, recording, or otherwise, without prior written permission of LIVentures LLC.